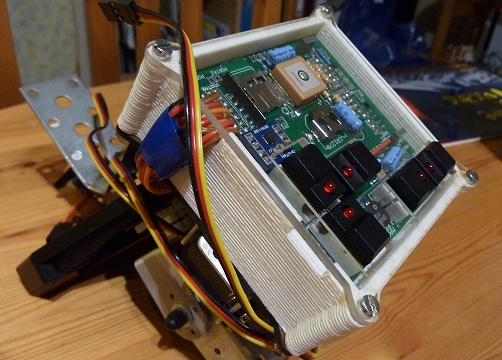 Papilio user Siou is hard at work on a killer project involving hardware and software image stabilization for a video camera "mounted to a flying machine."  The project is built around a Papilio 250K  and uses a series of servo motors meant to correct the x, y, and z axes of rotation to stabilize the video image. The motors are guided with sensors, including a gyroscope, an accelerometer, a magnetometer and GPS.
The video camera is pointed at a fixed target on the ground, and between the motors, sensors, and custom software, the device operates completely autonomously to correct for all variables affecting the stability of the image. Siou is even using realtime data from NASA in his calculations!
For more details, flowcharts, images and even some video of the project in motion, please check out Siou's project page. You might learn a thing or two! Thanks Siou, we love what you're up to! Keep us posted on any further developments on your project.
Siou's Project Page:  Stabilizer IMU / GPS Tracker and Image
Comments section is open! Happy hacking.